04.05.23
Student Design Charrette 2023
The IIDA Southern California Chapter Student Design Charrette was held on Saturday, March 11 at the HLW International Office in Santa Monica.
Student Members of IIDA from 8 schools competed for cash awards and the chance to move on to compete in the Regional Student Charette Competition in Arizona later this Spring. In addition to these prizes, the top team will be invited to be honored on stage at the Calibre Design Awards on May 12 at the Beverly Hilton Hotel.
Twenty-eight students were divided randomly into 6 teams and challenged to design a new Headquarters for the Mental Health America of Los Angeles in an existing adaptive reuse building – The Dairy – in South LA. They were asked to fulfill a long list of intricate program requirements that considered structural constraints and the connection to the surrounding community. Designs should also consider the culture and mission of the MHALA.
Participating schools included OTIS, San Diego Mesa College, Woodbury, Mount San Antonio College, Saddleback College, California State University Long Beach, California State University Northridge, Orange Coast College.
The teams had 4.5 hours to research, develop a cohesive concept and communicate their design through plans, sketches, inspiration images and material selections. Time management and the ability to collaborate well with a team were critical to the outcome for each group. As a twist this year, about a third of the way through, teams were given an added challenge of incorporating a previously unmentioned element into their designs. This added a level of intensity to last couple of hours of work before time was called and boards were collected.
Each group had 7 minutes to present their designs to 4 esteemed jurors:
After much consideration, the judges decided to bring back four teams for additional Q&A behind closed doors to help them determine the first and second prize winners. Another intense deliberation took place to make the final selections. Before the winners were revealed, the jury gave feedback to each team and commended them for participating in this rigorous competition.
Winning Team  – "MHALA Inclusive Wellness Office"
Tejung Xie 'David' Guan – CSUN
Ashley Khalil – OTIS
Jenna Dohy – CSULB
Renee Smaldino – Mesa College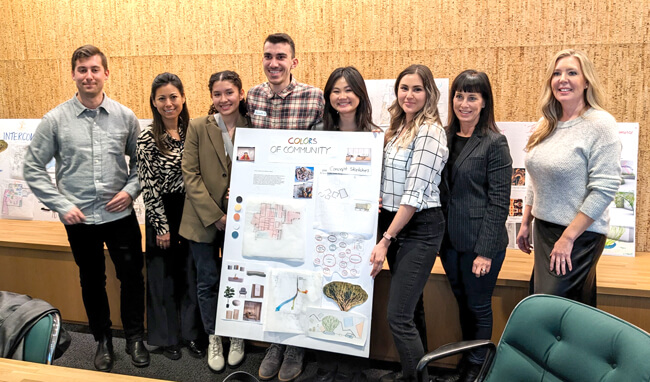 2nd Place Team – "Colors of Community"
Kenneth Oz – CSUN
Kassea Yuu – Woodbury
Ashley Ambriz – Orange Coast College
Gabi Ramos – Mt. SAC
Jill Potts from Interface and Derek Chen from Gensler  – IIDA SoCal VPs of Student Affairs – thank the students, judges, sponsors and volunteers for making this event a huge success.  A special thank you to:
Cory Hubbard, Danielle Peskin and Pivot Interiors for joining us and providing lunch
Interface for providing breakfast and supplies
HLW for providing the event space
Nicole Dehlin-Grant from HLW for hosting and developing the Challenge
Volunteers –
IIDA Campus Center Faculty Advisors who support their students by encouraging them to participate in IIDA opportunities
The day was a successful and meaningful experience for all involved.  Gabi Ramos from the second place team said, "This was my first year doing anything like this and I was so nervous to go, but I am so glad I went. All the students were great and I got to test my skills. I would be happy to do this again next year if given the opportunity."
The IIDA Student Affairs committee looks forward to providing many future opportunities for Student Members like Gabi and welcomes anyone interested in supporting our events to join our team.
We wish our team moving on to the Regional Charrette the best of luck and look forward to celebrating again at Calibre in May.
See photos from the event here.
Back to Blog